CK10 Carburetor Repair Kit for Rochester Model B and BC Carburetors
For all first-design rochester model b, bc and bv carburetors using a slotted accelerator pump stem. Later models used a round stem and are covered by kits ck31 or ck33.
Premium USA leather accelerator pump.
Made in USA. Ethanol compatible.
Ordering Information

Price: $34.95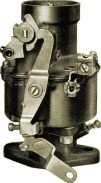 Typical carburetor serviced with this kit
Kit Contents
Carburetor Numbers Serviced With This Kit
7001374

7002050

7002051

7003060

7003152

7003160

7003526

7003863

7003864

7003865

7003986

7004468

7004475

7004476

7004477

7004478

7004495

7004620

7004915

7005060

7005140

7005921

7005922

7005982

7006201

7007172

7007180

7007181

7007200

7007950

7009253

7009254

7009255

7009258

7009259

7010680

7013029

7013953

7015011

7015013

7015021

7015919

7041859


Applications
Chevrolet and Pontiac cars up to 1956
Chevrolet trucks up to 1962
Also Available