CK31 Carburetor Repair Kit for Rochester B, BC, BV Carburetors
Complete rebuild kit for 1963-up applications with pump with round stem. Older carbs use flat stem pumps: kit ck10.
This kit contains the complete pump assembly. Most other kits on the market only have the pump cup. Unfortunately, the pumps are often damaged or have been replaced with aftermarket, non-rebuildable pumps. Our kit with a complete pump is a must in these cases.
Made in USA. Ethanol compatible.
Ordering Information

Price: $34.93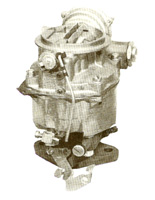 Typical carburetor serviced with this kit
Kit Contents
Carburetor Numbers Serviced With This Kit
7016431

7016507

7016722

7019061

7019062

7020062

7023000

7023003

7023004

7023005

7023011

7023013

7023017

7023021

7023105

7023108

7024000

7024001

7024009

7024082

7024164

7024166

7024184

7025000

7025003

7025004

7025005

7025087

7025105

7025108

7025167

7025168

7025182

7026011

7026017

7026019

7026027

7026028

7026029

7026083

7026085

7026167

7026168

7026169

7027009

7027011

7027029

7027167

7027168

7028168

7036009

7036167

7036168

7036680

7037009

7037167

7037168

7041860

7041861

17052529


Applications
CHEVROLET 1963-1967
GMC 1963-1967
OLDSMOBILE 1966
PONTIAC 1964-1968
Also Available