CK819 Carburetor kit for Mercruiser carburetor
Note that the Mercarb looks like a rochester 2-jet (2g) carburetor, but is actually a completely different unit. Only the float is common to the two carbs. The Mercarb can be distinguished by the lack of 'rochester' or 'two-jet' markings, which all 2g carbs have.
Please note that there are two different Mercarbs. The one serviced with this kit (CK819) has an accelerator pump with a 5/8" diameter cup and a straight stem.
Made in USA. Ethanol compatible.
Ordering Information

Price: $55.93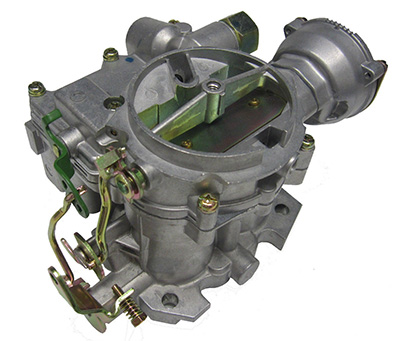 Typical carburetor serviced with this kit
Kit Contents
Carburetor Numbers Serviced With This Kit
1389-8488 A2
1389-8489 A5
1389-8490 A2
1389-9350 A2
3304-9353 A2
Applications
The other type has a large pump cup with a bent stem and takes our kit CK816.
Also Available