cm410: Ebook carburetor service manual - 119 pages, 165 MBytes, pdf format
Complete service manual: Comprehensive factory service information for Holley Model 4000 (Tea Pot) carburetors. Includes theory, diagrams, detailed specifications, tune-up data and complete overhaul procedures. Fast, secure e-book download.

Covers late 1954 to 1957 applications for Ford, Mercury and Lincoln cars.
Thumbnails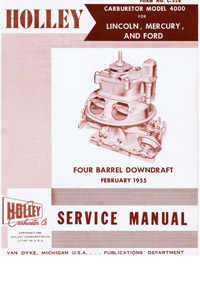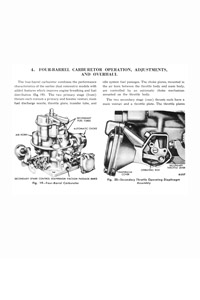 Table of Contents
1955 Lincoln, Ford and Mercury Holley 4000 Manual
Table of Contents
Introduction - Description
Operation
Overhaul
Rebuilding
Installation
Troubleshooting
1956 Lincoln, Mercury and Ford Holley 4000 Manual
Table of Contents
Introduction - Description
Operation
Overhaul
Installation
1956 Ford Four Barrel Carburetor Manual
Operation
Disassembly
Cleaning and Inspection
Assembly
Specifications and Application Data
1954 Ford Police - Mercury Engine R-885A
1955 Ford Police R-991-1A, R-1075
1955 Ford Police R-957-1A, R-1074A
1955 Ford Thunderbird 292 R-1077-1A
1955 Ford Fairlane & Wagons with Power Pack Kit R-957-1A, R-1074A
1955 Ford Thunderbird R-998A, R-1078A
1955 Lincoln R-992-1A, R-1076A
1956 Lincoln R-1094-1A, R-1094-2A, R-1094-3A
1956 Mercury 292 R-1161A, R-1161-1A
1956 Mercury Maximum Duty Kit R-1268A
1957 Mercury Maximum Duty R-1434A, R-1437A